NYNB Conference speakers
Andrea Haughian
Andrea Haughian is Vice President of Business Development for Invest Northern Ireland. Andrea has extensive experience in the Financial Services sector and specializes in assisting US companies establish successful near shore operations in Northern Ireland.
Prior to joining Invest Northern Ireland's New York office, Andrea worked in the Financial Services sector in Belfast with BDO Northern Ireland, the award winning member firm of BDO, the fifth largest accountancy network in the world. Prior to that, Andrea worked for many years in international trade, marketing and business development in Europe, the US and Asia.
Andrea is a graduate of Queen's University, Belfast, has undertaken post-graduate programs in both San Francisco and Chicago and is a Member of the Chartered Institute of Marketing, Fellow of Young Enterprise and Member of the Institute of Directors. Andrea was listed as a Top 40 Under 40 honouree by the Irish Echo in 2010 and in 2009, 2010 and 2011 Andrea was named as one of Irish America's Most Influential Women.
Ben Chrnelich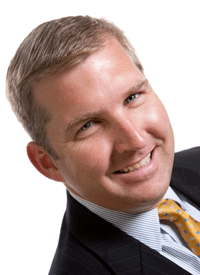 Ben Chrnelich is the Chief Administrative Officer and Chief Financial Officer of NYSE Technologies. NYSE Technologies is the world's leading provider of end-to-end electronic trading solutions. Its flexible and scalable products deliver robust and integrated solutions, from single trading positions to complete exchange platforms.
As CAO & CFO, Mr. Chrnelich is responsible for strategy, planning, business reporting, expense optimization, merger & acquisition analysis, business infrastructure and project management. Mr. Chrnelich joined NYSE Euronext in May 2008 from Lehman Brothers where he was the CAO for Global Equities Sales and Trading.  Prior to Lehman, Mr. Chrnelich worked at S chwab Capital Markets, Robertson Stephens and PricewaterhouseCoopers.
He has worked with many leading investment banks, market centers and financial technology organizations. Mr. Chrnelich is a Certified Public Accountant, holds NASD Series 7, 63 and 27 licenses and graduated from Lehigh University with a Bachelor of Science in Accounting.
Ben is a co-founder and board member of StreetWise Partners Inc., a New York based not-for-profit providing job training to underemployed individuals and is also the national board chair of AmericaSCORES, the largest after-school soccer, literacy and service-learning program in the United States.
Breandán Mac Suibhne
Breandán Mac Suibhne, Professor of History, Centenary College, New Jersey‬‬
Breandán Mac Suibhne is a historian of society and culture in eighteenth- and nineteenth-century Ireland. His publications include annotated editions of the travel writing of the medical doctor John Gamble (1770–1831), Society and Manners in Early Nineteenth-Century Ireland (2011) and, with David Dickson, the Famine narrative of Hugh Dorian (1834–1914), The Outer Edge of Ulster: A Memoir of Social Life in Nineteenth-Century Donegal (2000, 2001). He was a founding editor, with Seamus Deane, of Field Day Review, a journal of political and literary culture. He teaches in Centenary College, New Jersey.
Brian Burke
BRIAN BURKE – CHAIRMAN – THE ODYSSEY TRUST COMPANY LTD
Brian Burke was appointed to the Board in 2009. He holds degrees in Computer Science and Medicine. A Fellow of the Institute of Chartered Accountants in Ireland, having trained with Coopers & Lybrand, his previous positions include senior roles in the finance functions within the financial services sector. He is now Principal of Burke McDonnell, Chartered Accountants.
Brian O'Dwyer
Brian O'Dwyer is a native New Yorker. He is married to Marianna Page MacWilliam, and has two children, Brendan Keith O'Dwyer and Kathleen O'Dwyer Randall, and four grandchildren, Paul Ellis, Patrick Trescott, Reilly Page and Hailey Grace.
Mr. O'Dwyer was educated in the New York City public school system. He graduated from the High School of Music and Art, now known as LaGuardia High School, and received his Bachelor of Arts degree from The George Washington University in Spanish-American Literature and his Masters of Arts degree in Spanish-Language Literature from Middlebury College, Madrid. He went on to receive his Juris Doctorate degree from Georgetown University and his Masters in Law from The George Washington University.
Mr. O'Dwyer is Senior Partner at O'Dwyer & Bernstein, LLP, a law firm founded by his late father, Paul, which concentrates on personal injury, immigration rights, labor relations and general commercial litigation. During his long and distinguished legal career, Mr O'Dwyer has received numerous awards and commendations, including being cited as a New York Super Lawyer, a peer ranking by the Bar of New York City, awarded to the top 5% of the profession.
Mr. O'Dwyer is a consummate advocate for immigrants' rights. In 1988 he was a founder of the Emerald Isle Immigration Center, the largest Irish immigrant center in the USA. The Center serves as an advocate for Irish immigrant causes and has helped thousands of Irish men and women immigrating to New York City. Mr. O'Dwyer has also served as chairman and counselor to the Associacion Tepeyac , which provides advocacy and services to New York's Mexican community. He is credited for the instrumental role he played in the opening of New York's public universities and colleges to all immigrants, regardless of their documented status.
Mr. O'Dwyer has actively worked to advance Ireland's cause in the United States and is a strong promoter of Irish and Irish-American interests. He was part of the delegation that accompanied President Clinton to Ireland and served as an advisor to the White House on Irish issues, including the peace process. He was appointed by President Clinton as a Commissioner of the President's Commission on White House Fellowships and was awarded the Director Citation for Exemplary Public Service by the White House Director of Personnel for this work. In 2011 he was appointed Commissioner of the US National Commission for UNESCO by Secretary of State Hillary Rodham Clinton. He also serves as chairman of the Irish Chamber of Commerce USA, facilitating American investment in Ireland and Northern Ireland.
Public education has been a passion for the O'Dwyer family. Mr. O'Dwyer serves on the City University of New York Law School Foundation and is a recipient of the Dean's Medal for his commitment to social justice as a champion of immigrant and worker rights and as a peace advocate for Northern Ireland. He is also a member of the Graduate School of Political Management Board at The George Washington University.
Brian W. Stack
Brian W. Stack was born in Dublin and educated at 0'Connell Schools in Dublin and Salford College in Manchester UK (Marketing).
Following a ten year career with Aer Lingus in the UK, Brian joined the Irish Tourist Board in Dublin and New York – specializing in the meeting and incentive travel area.
In 1983, Brian joined the 4,000 acre exclusive Ocean Reef Club as Vice President, Sales and Marketing.
In 1990, Brian joined CIE Tours International as President and in 2007 was appointed to the additional role as Managing Director, with responsibility for the world wide operation of CIE Tours International.
CIE Tours International is one of the largest producers of tourists from the U.S. to Ireland and has been profitable each year since 1990.
Brian serves as Vice President of the Ireland-U.S. Council for Trade and Industry, and Vice Chairman of the Irish American Cultural Institute. In addition, Brian is Chairman Emeritus of the United States Tour Operators Association, Past President of the Society of Incentive Travel Executives and Board Member of The Irish Repertory Theatre.
His awards also include "Man of the Year" from the Incentive Travel Industry and "International Executive of the Year" by the World Congress on Marketing and Incentive Travel, in addition to being honored in the Top 100 Irish Americans by Irish America.
Married to Anne-Marie, Brian lives in Rye, New York, has two grown children and four grandchildren.
Caoimhín Mac Giolla Mhín
Caoimhín Mac Giolla Mhín was born, schooled and has lived in West Belfast all his life. He graduated with BSc Hons in Estate Management with University of Ulster in 1997. Having simultaneously studied Irish Language both in a formal and informal capacity, and with a long time interest in community activism, he took up employment with local Irish Language Development Agency, Forbairt Feirste.
He has managed and championed many community projects in West Belfast across the board, within Tourism, Economic Development, Irish language, Republican Ex-Prisoner issues and general family support, health and educational issues associated with disadvantaged communities, in a voluntary and paid capacity over a 15 year period.
He was employed by Belfast City Council's Economic Development Unit and subsequently left to become a local Sinn Féin councillor in October 2010, through co-option. Caoimhín was elected to Belfast City Council in May 2011.
Caoimhín currently sits on Strategic Policy and Resources, Development and Parks & Leisure committees in Belfast City council. Eventually Caoimhín returned to employment related to his academic background when appointed as Director of Ciste Gaeilge, responsible for an £8m capital investment fund. This fund will be crucial to the long term physical development of Irish cultural centres which in turn will become the centres for people to embrace and learn the Irish language. Caoimhín sees the golden opportunity for Irish America to work in partnership in developing the infrastructure needed to sustain the growth of the Irish language for all who chose to embrace it both in Ireland and in USA.
CIARÁN O'REILLY
CIARÁN O'REILLY is the co-founder and Producing Director of The Irish Repertory Theatre –a New York based theatre company with an International reputation. It is currently celebrating its 25th anniversary this year. He is also an actor and director and has received several awards and nominations over the years –including Drama Desk, Drama League, Lortel, Calloway, and most recently the Special Achievement Award from the Outer Critics Circle in recognition of 25 years of producing outstanding theatre.
Ciarán Mackel
Ciarán Mackel
BSc, Dip. Arch., Dip. Proj. Man., MSc Urb. Des
RIAI, RIBA, ARB
Ciarán Mackel is an architect in private practice he has been involved with, and design architect for, a number of successful award-winning projects, and has over 30 years experience in the profession.
Ciarán has won a string of awards for his education and community
projects for the Irish language community which include Coláiste
Feirste, Bunscoil an tSléibhe Dhuibh and An Nasc. Ciarán believes that architecture is an art form which must respect the community it serves, a philosophy all too evident in his innovative plans for an extension to the Cultúrlann in Belfast's burgeoning Gaeltacht Quarter
Ciarán has been architect-assessor on a number of high profile architectural competitions in recent years following his role as Arts Council Lottery panel member, Architectural Policy panel member, and as creative advisor on the built environment to the Imagine Belfast 2008 project, Belfast's bid for Capital City of Culture 2008.
Ciarán is currently part of the RSUA's PLACE project, developed in co-operation with Belfast City Council to provide a city centre venue as an Architecture and Built Environment Centre. Ciarán also serves on the Boards of a number of community and arts organisations.
Ciarán is currently an associate senior lecturer in the School of Architecture and Design at the University of Ulster. Ciarán is also an architectural advisor to the Ministerial Advisory Group to the Department of Culture, Arts and Leisure.
Ciaran is also founder member of the think-tank / do-tank, the Forum for an Alternative Belfast – Forum for Alternative Belfast aims to facilitate the development of workable ideas about how Belfast can be developed for all its citizens as well as for visitors. It aims to encourage debate about how we can influence and affect changes to the built environment. It seeks to explore how the mistakes of the past can be addressed and it wants to look imaginatively at opportunities for the future.
Christine Callahan Quinn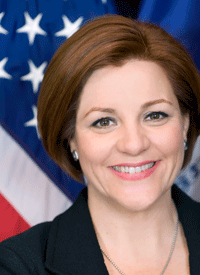 Christine Callahan Quinn is the first Irish-American Speaker of the New York City Council. She was born to grandparents from Newmarket Co. Cork, Schull Co. Cork and Killmahill Co. Clare.
Speaker Quinn's maternal grandmother made her voyage to the United States on the Titanic and was one of the few young girls from steerage to make it out of the
Speaker Quinn has worked hard to support the Irish Arts Center and their efforts to build a new venue to showcase Irish culture and arts. This state-of-the-art facility will be a bright gem of cultural capital on the west side of Manhattan.
The Emerald Isle Immigration Center (EIIC) also claims Speaker Quinn as an unwavering supporter. Through the backing of New York City and its Irish community the EIIC provides essential immigration services to the Irish as well as a range of immigrant communities as diverse as New York City itself.
Christine Quinn has been a strong supporter of the ongoing efforts to secure lasting peace and prosperity in Northern Ireland. At the forefront of this effort are finding innovative ways New York City can work with Belfast to spur our local economies and help small business owners.
Speaker Quinn has initiated a dialogue between cultural institutions and community groups in New York City and Belfast. These groups can share their best practices and collaborate together on future projects that improve the lives of residents in both cities.
She convened a meeting between the Minister of Employment and Learning and City University New York. At that meeting an agreement was made to increase the number of student exchange programs between New York City and the North.
By building links between our higher learning institutions, New York City and the North can strengthen the bonds between our younger generations and foster an exchange of ideas around culture and business.
Dan Gordon
Dan Gordon is a Belfast Actor, Writer, Director.
Belfast, particularly the East is a major influence on his work. He has made many television documentaries about the city covering the redevelopment of Mersey Street – Home Bakeries – author Brian Moore – The Crown Bar and even producing a play – Observe the Sons of Ulster Marching Towards the Somme with young offenders.
He has written many plays for stage and radio and commissioned by the Ulster Scots Agency he wrote six cross-community plays for schools on The Belfast Blitz, The Linen Industry, The Titanic, Agriculture, Education and The Shipyard. The project won the UK Theatre Management Association Cultural Diversity award in 2011.
In 2010 Dan began developing a stage play called The Boat Factory based on his family's experience of the Harland & Wolff Shipyard. The play's first outing was in the Titanic Drawing Offices and featured 12 professional actors and thirty six 'apprentices' from Ashfield Boys' High School, St Patrick's College Bearnageeha and Belfast Boys' Model.
The play was a great success and to enable him to take it further afield he adapted it and reduced it to much more modest cast size of just two actors. Even with this radical reduction in scale the production has played all over Northern Ireland premiering in Westbourne 'Shipyard' Church on the Newtownards Road, travelling to many non-theatre venues and then on to Dublin Castle, Brussels and the Edinburgh Fringe Festival in 2012.
The Boat Factory tells the story of Dan's father Davy (played by Dan) and his best friend (played by Michael Condron) as they begin their apprenticeships in the Shipyard against the background of post war Belfast. Between them Dan and Michael play all the characters.
The play is playing New York off-Broadway's celebrated 59E59th Street Theaters (3rd – 30th June) and Donegal in July, The King's Head Theatre London July/Aug concluding in Dunnet Head in the very north of Scotland.
As a Trustee of the Lyric Theatre Belfast Dan was instrumental in the redevelopment, construction and opening of the new building. He devotes much of his time to his board membership of Arts & Business NI, Prison Arts Foundation and The Youth Justice Agency. He is frequently asked to assist many charities and contributes to events for groups such as Barnardo's, Holy Family and Tigers Bay Youth Clubs, Leonard Cheshire Trust, Disability Action, Co-operation Ireland, Pips Suicide Awareness, East Belfast Community Counselling, Arts Council Connections Programme, Restorative Justice NI and East Belfast Survivors of Suicide.
DANIEL DROMM
NYC Council Member – District 25
Daniel Dromm is an educator, community organizer, union leader, and political activist. In 2002 he was elected Democratic District Leader in the 39th Assembly District and was re-elected in 2004, 2006, and 2008. In 2009, he was elected to the City Council, representing District 25 in Queens. He serves as chairman of the Immigration Committee. He is also an award-winning New York City public school teacher. He instructed and inspired thousands of students at PS 199Q in Queens. In 2006, he was chosen as "Outstanding Teacher of the Year" by his school's principal, and in 2009, named "Educator of the Year" by the Kiwanis Club of Sunnyside. In 1992, Daniel courageously came out as an openly gay teacher, making front-page news in newspapers throughout the city. The ensuing battle tested Daniel's resolve as a fighter who is unafraid to take on the powers that be. He has also dedicated himself tirelessly to the United Federation of Teachers. Daniel received his under graduate degree from Marist College in Poughkeepsie, and his master's degree from City College. He is deeply committed to civil rights and social justice and has established himself as a fighter against prejudice, discrimination, and violence. He has founded and organized multiple organizations, events, and programs in support of the LGBT community.
Daniel Libeskind
Daniel Libeskind, B.Arch. M.A. BDA AIA, is an international architect and designer. His practice extends worldwide from museums and concert halls to convention centers, universities, hotels, shopping centers, and residential projects. Born in Łód´z, Poland in 1946, Libeskind was a virtuoso musician at a young age before giving up music to become an architect. He has received numerous awards and designed world-renowned projects including: the Jewish Museum in Berlin, the Denver Art Museum, the Royal Ontario Museum in Toronto, the Military History Museum in Dresden, and the masterplan for Ground Zero among others. Daniel Libeskind's commitment to expanding the scope of architecture reflects his profound interest and involvement in philosophy, art, literature and music. Fundamental to Libeskind's philosophy is the notion that building are crafted with the perceptible human energy, and that they address the greater cultural context in which they are built. Daniel teaches and lectures at universities across the world. He resides in New York City with his wife and business partner, Nina Libeskind.
Danny Moore
Danny Moore – Founder, Lough Shore Investments / COO, Options
Danny Moore is a former Chief Operating Officer of the NYSE Euronext trading technology segment, NYSE Technologies. Prior to joining NYSE in 2008, Mr Moore served both as Chief Operating Officer and Chief Executive Officer of Belfast-based trading technology firm Wombat Financial Software. Wombat, under Mr Moore's stewardship, was acquired by NYSE Euronext in March 2008. Before joining Wombat, Mr Moore worked with Newry-based First Derivatives Plc.
In late 2010, Mr Moore established Belfast-based investment firm Lough Shore Investments. Through Lough Shore Investments, Mr Moore plans to partner with both established and promising next generation start-up companies primarily based in Northern Ireland and Ireland. In late 2012, Mr Moore joined Options, the market leader in infrastructure as a service (IaaS) products for the global capital markets industry, as Chief Operating Officer where he is responsible for leading the firm's day-to-day global operations.
Darrah Carr
Darrah Carr is the Artistic Director of Darrah Carr Dance, a Bessie Award nominated company that specializes in ModERIN: a unique blend of traditional Irish step and contemporary modern dance. Recent performance highlights include: NBC's "The Today Show;" a guest appearance with The New York Pops at Carnegie Hall; "The Yeats Project" at the Irish Repertory Theatre, and the company's annual season at the Irish Arts Center. Carr holds an MFA from New York University's Tisch School of the Arts and is currently pursuing a PhD in Dance through Texas Woman's University. She is an Adjunct Professor in the Dance and Irish Studies programs at Hofstra University and is a frequent contributor to Dance Magazine, Dance Spirit, Dance Teacher, and Dance Studio Life. www.darrahcarrdance.com.
David O'Leary
David O'Leary hails from Gorey, Co. Wexford. A graduate of French and Law from NUI Galway, he has followed his dream of becoming a professional tenor. Working as a caddie at Winged Foot Golf Club, he supported his studies in Ireland and New York. One of the highlights of his career was performing for President Barack Obama, Taoiseach Enda Kenny and other top ranking politicians in 2012 at Washington DC's Capitol Hill during March's St Patrick's Day celebrations. He has also performed for President Clinton, Chief Justice Roberts, Governor O'Malley of Maryland, the NY Mets and the NY Giants at Giants Stadium.
David Gavaghan
David Gavaghan
Chief Executive, Titanic Quarter Limited
David started as Chief Executive of Titanic Quarter last year on leaving Quintain Estates and Development plc where he was the Executive Director responsible for the specialist fund management business.
Prior to that, David was CEO of Strategic Investment Board Limited (SIB) advising Ministers in Northern Ireland (NI) on the infrastructure programme across the region.
David took on the role of Chair of ARENA Network – the environmental arm of Business in the Community – in January 2013.
David is married to Helen O'Malley and together they have 8 children (four boys, four girls) ranging in ages from 21 years old to newborn. He enjoys country life and keeps fit by running and the occasional half-marathon.
Erin King Sweeney
Erin King Sweeney is Director, Head of Legal Affairs and Human Resources, USA, at Swiss International Air Lines Ltd (SWISS). Erin has worked for SWISS and the former Swissair since 2000. In addition to her work at SWISS, Erin is president of King Sweeney Strategies LLC, a government and community affairs consulting firm.
Erin graduated manga cum laude from the University of Notre Dame and also earned her law degree from Notre Dame. Erin's charitable activities include serving as a Founding Committee Member of the Pops Culturalists of the New York Pops, member of Circle of Red of the American Heart Association and a Corporate Member of the Nassau County Museum of Arts. She and her husband, John, reside on Long Island with their 2 children, Jack and KatieMae.
Fiona Dunne 
Fiona Dunne joined Tourism Ireland as promotions manager for the US in 2008. She manages a New York based team responsible for consumer, trade, business tourism, golf and leisure promotions in key designated marketing areas throughout the country. In this capacity Fiona manages Tourism Ireland's Irish Festival Outreach Program which partnered with Irish and Celtic Festivals through the United States to promote the Gathering during the summer of 2012.
Prior to taking up her position with Tourism Ireland she worked with the Africa-America Institute in New York as Director of Corporate Affairs and with the Soros Foundation in Senegal. Fiona is a board member of Afropop Worldwide a world music radio program distributed by Public Radio International (PRI)
Gary Hanley
Gary Hanley
Senior Vice President – Americas
Invest Northern Ireland
Gary is the head of American operations for Invest Northern Ireland, a branch of the UK government responsible for growing the economy of Northern Ireland.
Under Gary's leadership, Northern Ireland has seen recent first time investments from dynamic and fast growing North American companies including CyberSource/Visa, 3Par now HP, ByteMobile now Citrix, BTI Systems, NaviNet, The New York Stock Exchange, CVS, Cowen, Dow and Chicago Mercantile Exchange.
In May 2008, Gary was instrumental in the success of the historic US-Northern Ireland Economic Conference which took place in Belfast. The conference, supported by the Bush administration, was attended by Fortune 500 executives to meet with senior political figures including Gordon Brown and Brian Cowen (UK and Irish Prime Ministers). Keynote speakers included representatives from companies such as Allstate, Citi and Bombardier who are major investors in the region.
In 2009, he was honored in New York by Belfast Media Group's US publication The Irish Echo as one of its Top 40 under 40. In addition, he has been named to the Irish-American Magazine Top 100 Business Leaders as well Business and Finance Most Influential US-Irish Business Leaders in 2008. Gary currently serves on the Board of Directors' of the Irish Education Foundation and the American Ireland Fund – Dinner Committee.
With over eighteen years experience in the ICT industry in the US, Gary has held positions of leadership in software development, IT, sales and marketing for companies such as Sun Microsystems, GTE (now Verizon) and EMC.
Gary holds a Bachelor of Business Studies from the University of Limerick as well as a Master of Business Studies from the National University of Ireland at Galway.
He resides in Boston, Massachusetts with his wife, two daughters and a son.
Geraldine McAteer
Geraldine McAteer is CEO of West Belfast Partnership and is a Board member of the Strategic Investment Board, tasked by the N Ireland Assembly with implementing the Investment Strategy for N Ireland. She is a member of the West Belfast Social Investment Fund Steering Group and was Vice Chair of the Belfast District Policing Partnership. A former Chairperson of the North and West Belfast Health and Social Care Trust, Geraldine is a community activist, a founder member of West Belfast Festival and a key contributor to post conflict reconstruction initiatives including the West Belfast/ Shankill Jobs Task force.
A graduate in Economic and Social Sciences from Trinity College Dublin, Geraldine has won a prestigious Aisling Award from Belfast Media Group and a Belfast Institute citation for outstanding community endeavour and peace building.
Geraldine Hughes
GERALDINE HUGHES is originally from West Belfast, Northern Ireland and a graduate of UCLA's School of Theatre, Film and Television. Hughes received the Los Angeles Ovation, Garland and Drama Critics Circle Awards and a Drama League Award Nomination for Outstanding Performance for her solo play Belfast Blues, which she also wrote. She most recently starred in the Roundabout Theatre Company's production of Cyrano De Bergerac opposite Douglas Hodge.  Her other recent stage credits include the West End production of Jerusalem opposite Tony award winner Mark Rylance after performing in the Broadway production the prior year.  Other theatre credits include: Molly Sweeney (Irish Repertory Theatre), Pumpgirl (MTC), Translations (MTC), Orson's Shadow, The Cripple of Inishmaan, The Weir, The Architect. Hughes' television credits include: Nurse Jackie, Mercy, The Good Wife, Law and Order CI, Law & Order SVU, Law & Order, Murder, She Wrote: The Celtic Riddle, ER.  She has starred in several features including Warner Bros.'Gran Torino, MGM's Rocky Balboa and Dead Souls for Chiller Network. She most recently appeared in National Geographic's Killing Lincoln opposite Billy Hopkins and narrated by Tom Hanks.  Geraldine recently narrated the audio book of Colum McCann's latest novel Transatlantic.
Gerry Lennon
Gerry Lennon has been Chief Executive of the Belfast Visitor and Convention Bureau (BVCB) since October 2000.
BVCB markets Belfast as a leisure tourism and conference destination and has a key role in visitor servicing, providing a customer focused welcome and orientation to visitors as well as managing the Belfast Welcome Centre. BVCB is a public/private membership organisation, supported by Belfast City Council, Northern Ireland Tourist Board and sponsored by Value Cabs and Diageo Northern Ireland.
Gerry has twenty years experience in a number of senior management roles in the public, private and voluntary sectors with Belfast City Council, British Telecom, Belfast Visitor and Convention Bureau (BVCB), The National Trust, The Northern Ireland Transport Holding Company (NITHCO), Titanic Foundation Ltd and Belfast Cathedral Quarter Trust Ltd.
Harry Connolly
Harry Connolly is from Ballymurphy in West Belfast. He attended St Aidan's Primary School, CBS Glen Road and George Williams University College in London.
Harry worked for a number of years in youth and community development across the greater Belfast area and continues to maintain links with youth organisations such as Challenge for Youth and he sits on the board of the Terry Enright Foundation.
In recent years, Harry has been to the fore in raising the profile of West Belfast as a must see tourist destination. He is the Tourism Development Coordinator at Fáilte Feirste Thiar with the responsibility for developing West Belfast's Tourism offering and building sustainable tourism infrastructure.
He works closely with key stakeholders in the local tourism and hospitality industry such as Féile an Phobail, Coiste, An Chultúrlann etc.
Harry has been instrumental in promoting a joined up approach to West Belfast tourism culminating in the establishment of both the West Belfast Tourism Forum in May 2009 which brings together government agencies, local community groups and the business community to plot and plan how West Belfast tourism can realise its potential and indeed in 2012 – 'Culture Tank' a group of key stakeholders that aims to develop The Gaeltacht Quarters tourism offering.
Harry has travelled to Europe and the USA promoting and showcasing West Belfast to the rest of the world! Under his leadership new dynamic partnerships have been established with international tour operators, industry experts and national tourism bodies.
Harry is also vice chairperson of the West Belfast District Policing & Community Safety Partnership (DPCSP).
James J. Lamb
James J. Lamb
Mr. Lamb joined the Ireland Institute of Pittsburgh in January of 1992 as Director of Training. He was hired to manage the Institute's Internship Program for unemployed young adults from Ireland and Northern Ireland.
Mr. Lamb holds a Masters of Science in Education from Duquesne University and a Bachelor of Science from Pennsylvania State University.
Mr. Lamb is an advocate for reconciliation in Northern Ireland and economic development in Ireland and Western Pennsylvania. His background, working with disadvantaged populations locally and abroad, and his understanding of the ever-changing social, political, and economic challenges in Ireland and Western Pennsylvania are important elements to his work at the Ireland Institute.
In 2011 The Irish Government installed Mr. Lamb as Honorary Consul of Ireland for Western Pennsylvania and West Virginia.
Mr. Lamb, his wife, Ann Burns-Lamb, and son Ciaran reside in Pittsburgh.
John Ahearn
John Ahearn was born in Binghamton, New York in 1951 and lives and works in New York City. He was a founding member of Collaborative Projects, Inc. and co-organizer of the "Times Square Show," 1980. John Ahearn's work alongside that of his long-time collaborator, Rigoberto Torres was the subject of a survey exhibition, "South Bronx Hall of Fame," organized by the Contemporary Arts Center, Houston in 1991 which traveled to museums in Europe and North America. In the 1980s and 1990s the artists executed several outdoor murals in the Bronx, New York and collaborated on public projects and exhibitions in Europe and North America. Between 2000 and 2002 John Ahearn completed a public project in Pan Chiao, Taiwan and between 2005 and 2006, Ahearn and Torres collaborated on two large scale wall murals at the Inhotim Centro de Arte Contemporânea in Brazil. In the fall of 2010, their work was the subject of a solo exhibition at the Aljira Center for Contemporary Art in Newark. In May 2012, John Ahearn participated in the special projects section of the Frieze Art Fair on Randall's Island, where he presented a reconstruction of his legendary 1979 exhibition at Fashion Moda, "South Bronx Hall of Fame."
John P. Harrington
John P. Harrington is Professor and Dean of the Faculty of Arts and Sciences at Fordham University in New York City. The 350 full-time faculty in twenty departments provide bachelor, masters, and doctoral degrees for 7,000 students on the three Fordham campuses in Manhattan, the Bronx, and Westchester, New York. In addition to the 20 departments, the Faculty of Arts and Sciences offers 20 interdisciplinary programs and research centers and a distinctive core curriculum for all undergraduates at Fordham, the Jesuit University of New York.
From 2002 to 2009, Harrington was Dean of the School of Humanities, Arts, and Social Sciences and Professor of Humanities at Rensselaer Polytechnic Institute, the oldest technological university in America. The School offers several unique B.S. programs in areas such as electronic arts, communications, and product design. The school also offers eight M.S. programs, one M.F.A. program, and five Ph.D. programs: a total of six new degree programs were developed in his tenure of seven years, and in 2008 the name was expanded from School of Humanities and Social Sciences to recognize its greater roles. At Rensselaer, Harrington created a new research portfolio focused on information technology, community-based research, design and environment, technology transfer, and electronic media.
Previously, from 1992 to 2002, Harrington was Dean of Humanities and Social Sciences at The Cooper Union, a unique lower Manhattan institution that offers full-tuition scholarships to all students. During Harrington's tenure, the Dean of Humanities at The Cooper Union took on additional responsibilities such as Chair of the President's Academic Council, as Director of the Cooper Union library, and as Director of the Humanities Gallery, a public exhibition space.
Harrington was educated at Columbia University, University College, Dublin, and he earned his Ph.D. in literature from Rutgers University. He has written extensively on Irish literature and culture, including The Irish Beckett (1991), The Irish Play on the New York Stage (1997), and The Life of the Neighborhood Playhouse on Grand Street (2007). He edited W. W. Norton's anthology Modern and Contemporary Irish Drama (1991; new edition 2008) and Irish Theater in America (2009). While continuing to teach and to attend academic conferences, Harrington also lectures frequently on theater and Irish culture in non-academic settings such as the Guggenheim Museum, Lincoln Center Festival, New York Shakespeare Festival/Public Theater, the Dublin Theatre Festival, the Manhattan Theatre Club, and others. He is a former Chairman of the Board of WMHT Educational Telecommunications and a current member of the Board of Mint Theater, a professional company in New York City.
John Reilly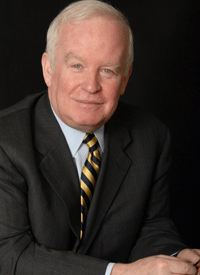 John Reilly is a commercial trial lawyer with more than 35 years' experience. John serves as lead counsel in federal trial and appellate litigation throughout the United States involving antitrust, price-fixing conspiracies, monopoly, commercial and real estate disputes, RICO actions, class actions, as well as arbitrations in both US and global forums.
In addition, John has been an arbitrator and counsel in numerous arbitrations involving commercial disputes, international disputes and New York Stock Exchange proceedings including several FINRA arbitrations of claims relating to securities and other investments. He has also advised and counseled clients regarding joint venture arrangements in several industries including airline and shipping, and with respect to re-sale price maintenance programs, as well as in
John served as a captain in the United States Marine Corps from 1967 to 1971, with a tour of duty in the Republic of Vietnam.
He is the author of "Wind Farms and The Law Of The Sea," which appeared on Law360 February 15, 2011 and examines the prospects for ratification of the Law of the Sea Treaty in light of wind energy project development in the United States.
He serves as co-chair of the Maritime Committee of the Public Utility, Communications and Transportation Law Section of the American Bar Association and as a director of The Ireland-U.S. Council for Commerce & Industry, Inc. John is a member of the American Bar Association Section of Litigation and former chair of the New York County Lawyers' Association Committee on Admiralty and Maritime Law.
As he has been since 2009, John is named a 2011 Super Lawyer, a distinction honoring the top five percent of lawyers in New York.
John Lee
John Lee
From fine art at the National Gallery of Art to fast horses at Belmont Park, Lee's career has always had communications at its core. He's written for magazines and newspapers, hosted TV and radio programming, directed broadcasting and media relations for a major sports organization and now heads the public relations and media projects consultancy John Lee MEDIA. A proud Irish American, he did pro-bono promotion for the "Bards for St. Brigid's" fundraiser to save the historic "Irish Famine Church, " consults for Irish and Irish American companies and non-profits, is on the boards of the Irish American Writers & Artists and the Irish Business Organization of New York, and recently helped publicize the "Irish Day of Action" and other Hurricane Sandy relief fundraisers. He also blogs at NewYorkIrishArts.com, IrishCentral.com and The Huffington Post.
John  V.  Connorton, Jr.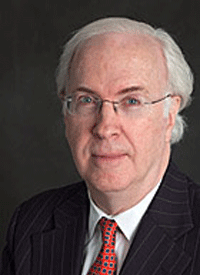 Specializing in the law of public finance and municipal bonds, John Connorton has participated in a wide range of capital infrastructure project financings throughout the United States totaling in the tens of billions of dollars.
Representative bond counsel clients include major power, energy, transportation, industrial development, environmental and housing public authorities and agencies, as well as various states and municipalities. Other representative clients include major investment banking firms and banks serving as underwriters for various public finance projects.
He has also served as special counsel to a number of large universities and corporations, including those doing business in Northern Ireland. He served as a member of the Firm's Management Committee for over 16 years.  All four of Connorton's grandparents were Irish-born. They came from Counties Roscommon, Mayo, Kerry and Cork.
Johny Nixon
Jonny Nixon is a Belfast songwriter. Jonny got interested in writing songs as a young kid messing about on his Dads classical guitar. He performed his first gig in his school hall at 15 and then got lost in life and only played to a few friends. Jonny's passion for songwriting was reignited when he was encouraged to write more songs while recovering from illness. That was back in 2005 and he since has had one of his songs 'Take it easy' used to promote Beyond Skin's (a charity addressing racism and sectarianism throughout Northern Ireland) East Belfast project. Jonny has played at the One World festival in Derry and has performed for the last three years at the Belfast Nashville Songwriters Festival. He is currently recording a new album, following on from his 2011 collection of songs entitled 'the last bus home'.
John Keane
John Keane, Managing Director, Ardmore Advertising.
John has more than 25 years' experience in the advertising and marketing industry, both in London and Ireland, and is widely recognised as a media-savvy strategic thinker. He has served on numerous industry bodies in Ireland and the UK including as Regional Chair of the Institute of Practitioners in Advertising, of which he is one of fewer than 100 Fellows. He was Chairman of the Publicity Association of Northern Ireland, sits on UTV's programme advisory committee, and is Chairman of sister company, PR consultancy, LJK Communications.
John is renowned for his Agency's pioneering work within the tourism sector; Ardmore has created campaigns for some of the biggest brands, including Stena Line, Translink, and Belfast – currently in the spotlight for its Backin' Belfast campaign. Ardmore operates Northern Ireland's largest media buying team.
John Fitzpatrick
John Fitzpatrick, OBE, President and CEO of the Fitzpatrick Hotel Group, North America, has almost thirty years of experience in the hotel industry. He began his impressive career in Ireland, where the Fitzpatrick name is synonymous with hospitality. For most of the past two decades, John has overseen the operation of two very successful hotels in New York, one of the most competitive cities in the world. He works diligently with his team to provide guests with an Irish brand of hospitality that is uniquely warm and inviting. Being a discerning business traveler himself, John's establishments appeal to the business executive's needs while also catering to leisure travelers and vacationing families. The Fitzpatrick Manhattan and The Fitzpatrick Grand Central have continuously received guest and industry accolades for outstanding, yet unpretentious service.
John began his formal hospitality training with a four year hotel management course at the Fitzpatrick Hotels in Ireland, followed by the prestigious hotel management course at UNLV in Las Vegas. After honing his skills with two major hotel organizations in Chicago, John then returned to Ireland to work at the family hotels in Dublin and Bunratty. He made the move back to the U.S. and opened his first New York hotel in 1991.
Devoted to the industry, John served three terms as Chairman of the Hotel Association of NYC, which is comprised of over 250 member hotels with more than 70,000 hotel rooms within the five boroughs of New York City. The American Hotel & Lodging Association (AH&LA) represents over 52,000 member hotels throughout the United States, comprised of over 4.5 million guestrooms with $137 billion in sales. In 2011, AH&LA elected John as Secretary/Treasurer and in 2013, John serves as Vice Chairman and in 2014, John will serve as Chairman.
He is also on the executive boards of both the American Ireland Fund and he also serves on the Ireland-US Council. John has received numerous honors for his both his business savvy, and charitable work, ranging from Crain's New York Business "Top Forty Entrepreneurs Under Forty" to the Irish Voice's Person of the Year Award. In 2002, John received the prestigious Ellis Island Medal of Honor, whose previous recipients include George Bush, Bill Clinton, Rudy Guiliani, several Nobel Laureates, and other distinguished leaders. In 2008, John was recognized for his contributions to the peace process in Northern Ireland by being invested with an honorary OBE by Her Majesty the Queen.
In 2010 Irish America Magazine recognized him with its most prestigious award, "Irish American of the Year" as well as including him on its "Business 100".
In July 2011, Queen's University Belfast conferred upon John an honorary Doctorate of Science in Economics.
In December 2012, John is named one of the Business 100 by Irish America Magazine
On March 18, 2013, John was announced as the new Chairman of The Ireland Fund, he will take over the role in 2014.
On March 21st, 2013, John is inducted into the Irish America Hall of Fame.
John is very active in a number of philanthropic activities, and is particularly dedicated to supporting organizations that aid children in need, as well as those that advance the peace process in Northern Ireland. In fact, he founded a charitable foundation 17 years ago in memory of his late parents to benefit such causes. The Eithne and Paddy Fitzpatrick Memorial Foundation has generated more than $2.0 million for charities that include the Barretstown Gang Camp (in County Kildare), the Corrymeela Reconciliation Centre (in County Antrim), PeacePlayers International and the Integrated Education Fund.
In his spare time, John is an avid aviator, flying both helicopters and airplanes. In 2003, in recognition of his skill and passion, he was asked to join the Board of Directors of Omega Aerial Refueling Services. He also enjoys water sports, snowboarding, skiing, kitesurfing and golf.
Joyce Sullivan
Joyce Sullivan is founder and CEO of SocMediaFin, a boutique social media consulting firm specializing in social media leadership training for entrepreneurs, specialty firms, financial companies and non-profit organizations. She serves on the board of the Financial Women's Association as their Chief Digital Strategist and Strategic Marketing co-chair. With over 20 years experience as a global project manager with firms including, Citi, Credit Suisse, JPMorgan Chase, and Wells Fargo/First Fidelity, Sullivan brings a seasoned industry perspective to the emerging world of social media, global organizations and community engagement.
Sullivan recently joined the faculty of Baruch College, City University of New York, in the School of Public Affairs as adjunct professor of social media and communications. She holds an MBA (Masters in Business Administration) from the Zicklin School of Business, Baruch College, City University of NY in International Finance and Marketing, a BA (Bachelors of Arts) in Education from University of Saint Joseph, Connecticut, and the PMP (Project Management Professional) designation from the Project Management Institute. Sullivan is an early adopter of emerging mobile technologies and actively participates in New York City's "Silicon Alley" start-up and digital communities.
Professor Sullivan speaks at numerous industry conferences about the emerging world of social media, non-profits, crowd-sourcing, career reinvention and creative disruption. Additional information is available on her site: http://about.me/joycemsullivan
Judith Joan Sullivan
Judith Joan Sullivan is chair of International Business Department at Davidoff, Hutcher & Citron LLP. She was previously chair of the International Business Department at Anderson, Kill & Olick, P.C. Ms. Sullivan focuses on domestic and international commercial transactions, mergers and acquisitions, board governance, shareholder rights, securities law, and private equity investments. She also has extensive experience representing banking clients, in substantial lending transactions in the private offering and asset based lending fields. At any given time, she is responsible for the United States' legal needs for nine figured investments of her clients. She has sat on the board of directors for private companies with employees in excess of 4,000, and currently sits on the board of several large non-profits.
Ms. Sullivan served as Vice-Chair of the American Bar Association's International Law Section for the years 2009-2010. From 2005-2007, she was the President of the Transatlantic Business Council, an independent not-for-profit international trade association. From 1996-2001, she taught Remedies and Commercial Law as an adjunct professor at Seton Hall University Law School.
Ms. Sullivan participates in various charities in Europe and in the New York/New Jersey area, including the Women's Association of the New Jersey Performing Arts Center, the Liberty Science Center Museum, Carnegie Hall, and various mental health clinics and hospitals. She is the current president and founder of Ramapough Conservancy, a non-profit corporation focused on land and cultural preservation for the Ramapo Mountains and its resident Native American Indian tribe, the Ramapough Lenape Indian Nation and sits on the board of the NJ Highland Coalition.
Ms. Sullivan holds a B.A. with high honors from Rutgers University and a J.D. from Seton Hall University Law School, where she graduated in the top 10% of her class and was a member of the school's Legislative Bureau and Journal. Ms. Sullivan clerked for the Honorable Robert E. Tarleton of the General Equity Division of the New Jersey Superior Court.
Kevin Breslin
"I care about the person on the other side of the lens and never underestimate their importance"
Director Kevin Breslin's is a director, producer, playwright and actor. His Academy Award Shortlisted documentary "Living for 32" (2010) is the inspirational story of Colin Goddard, a survivor of the tragic gun shooting massacre which occurred on the Virginia Tech campus, April 16th, 2007. Breslin's 2011 festival wining documentary #whilewewatch is the gripping portrait of Occupy Wall Street media. Kevin's latest feature film Blowtorch, tells the story of a recently widowed mother whose oldest son is murdered. The detective assigned to the case doesn't pay it much attention, prompting her to stalk a group of Brooklyn gangsters to uncover the truth. The film starring William Baldwin, Lois Robbins, Kathy Najimy, Kevin co-created as well as directed and produced a series of PSAs for the "Made in New York" campaign, for which he won a New York City Film and Television Award in 2007. The PSAs featured Will Smith, Debra Messing, Colin Farrell, Danny Devito, Ed Burns, and Rachel Ray.
Kevin has directed campaigns including the Chevy Silverado "This is Our Country" campaign, PGA, IBM, The Seminole Hard Rock brand, Guinness and the Brady Anti-Gun Campaign. Kevin also directed and co-directed the Sprint campaign featuring Sprint CEO Dan Hesse that was shot throughout New York City, presenting the city in stunning black-and-white cinematography.
Documentaries include "The Other Side of the Street", a story about the life of Jimmy Breslin and newspapers in New York City.
Kevin filmed "I Am New York" with acclaimed German photographer Horst Hamann based on his book 'New York Vertical'
As a young actor Kevin appeared in "Pope of Greenwich Village", "Cobra", "Out of Bounds", "Survival of Dana", "Rocky ll" and "Raging Bull". Mr Breslin also wrote and directed an Off Broadway play, "Terrible Beauty" with Tatum O'Neal and William Hickey.
Kevin Gamble
Kevin Gamble is the Director of Féile an Phobail, Ireland's Biggest Community Arts Festival. Kevin was educated firstly through the medium of Irish at Bunscoil Phobail Feirste, then went on to St Mary's Christian Brothers Grammar School and then to the University of Ulster at Jordanstown. Kevin began his career as a Sports Development Officer and spent 10 years working in a variety of sports development posts, including with Sport NI and Upper Springfield Development Trust. Kevin took up his current post as Director of Féile an Phobail in 2011
Kevin is an avid GAA and Irish Language enthusiast and has represented his club and county in hurling and handball. Kevin continues to play for his local club Naomh Pól and also coaches a variety of underage teams in Naomh Pól.
Recently Kevin's attention has been focused on family life, with three young sons, Jude (aged 2 ), Ben (aged 1) and Oscar (newborn) occupying most of his spare time, something he wouldn't change for the world!
Larry Kirwan
Larry Kirwan is leader of Black 47. He has written a dozen plays and musicals, five of which were collected in the book Mad Angels. He is a novelist, hosts and produces Celtic Crush for SiriusXM, and writes a weekly column for The Irish Echo [/toggle]
Leo McGuire
With over 30 years of public safety experience, Leo P. McGuire has remained on the forefront of innovation, technology, and mentoring others to realize their potential.
Whether it was serving as a military policeman in the U.S. Army, as a police officer and supervisor in a New Jersey municipality, or leading Bergen County's largest law enforcement agency as Sheriff, he maintained a balance between effective leadership and providing the critical safety services our citizens expect and desire.
As Sheriff, Leo McGuire administered the operations of the Bergen County Sheriff's Office, the county's premier law enforcement agency, with more than 500 members and an annual budget of more than $58 million and a correctional facility of 1250 beds. He was chosen as a pilot site for the COPS Office Jail Information Model program and partnered with the Community Safety Institute to enhance the ability to obtain and share information to save lives and solve crimes. In 2010, Sheriff McGuire became the first Sheriff's Office in the nation to partner with an Israeli company to deploy a cutting edge technology designed to detect deception, make the jail staff and inmates safer, and help in the war on terror. He also gained notoriety by conducting his county's first gun buy-back program using funds seized from drug dealers, resulting in over 700 weapons taken off our streets. This successful program was preceded by the use of text messaging and Internet technology to enhance the ability to obtain anonymous information to solve and prevent crimes in the community with the BergenTip program. In the first week of implementation, a bi-county drug dealing ring was stopped in their tracks. Leo also began a countywide youth academy for those desiring to learn more about law enforcement but also chartered the START program (Sheriff's Training and Redirection Team) where those young people who had already begun down the wrong path of life were "redirected" towards success. This program proved to be one of the most satisfying in his career.
As the leader of the Sheriff's Office, Leo McGuire ensured his staff had the tools necessary to become one of the nation's best and tripled the amount of training and education they received annually. He did this while advancing his own education by obtaining his Master's in Business Administration and later attending the Harvard-Kennedy School of Government for the Senior Executives Program as well as the prestigious FBI National Executive Institute and the National Sheriff's Institute. He continues to teach leadership, business and criminal justice at New Jersey universities while sitting on the Criminal Justice and Business Advisory Boards of several colleges.
Selected as a member of the National Sheriff's Association's Board of Directors, Leo also served as the President of the Constitutional Officers Association of New Jersey and Vice-President of the Sheriff's Association of New Jersey before retiring from law enforcement in 2010. He continues supporting the community by serving on college boards and as a trustee for the Boys & Girls Club and volunteer for the Employer Support for the Guard and Reserves, while operating a consulting business, LPM Strategies, LLC and as Director of an E-Training company: FML Technologies, based in Northern Ireland. Leo lives in New Jersey with his wife of 28 years and their two daughters.[/toggle]
Loretta Brennan Glucksman
A third generation Irish-American, Loretta is a noted philanthropist and, together with her late husband Lewis, has raised millions for Ireland. She has served as Chairman of the American Ireland Fund since 1995 and is currently spearheading the Fund's Promising Ireland Campaign which exceeded its goal of $100 million and now has set a new target to meet need across Ireland to $140 million. This increase is as the result of the success of the campaign and the great generosity of Funds' donors.
She is Co-Chair of Glucksman Ireland House, the center for Irish Studies at New York University. Mr. & Mrs. Glucksman also established the Glucksman Chair of Irish and Scottish Studies at the University of Aberdeen. In 2007, University College Cork saw the official opening of the Lewis Glucksman Gallery.
She has served on numerous other boards including the IDA, The National Gallery of Ireland, The National Library, The National Concert Hall, The Abbey Theatre, Trinity College, University College Cork, The Royal College of Surgeons, Smurfit School of Business, University of Limerick and Cork Airport Authority.
Earlier in her career, Mrs. Glucksman was a producer for news and public affairs with PBS-TV. She was also a lecturer in English literature at several universities.
Lorraine Turner
A native of Merseyside, England, Lorraine Turner currently heads up the Northern Ireland Bureau's New York office. Prior to joining the Northern Ireland Bureau, Lorraine played a vital role in the Northern Ireland Peace Process, working for the British Consulate in New York as the Northern Ireland Press and Public Affairs Officer. Her love affair with New York began as soon as she arrived in 1997 when she served as an Immigration Officer in the British Consulate.
During her career in New York, Lorraine has been a welcomed friend to both the British and Irish communities. Leading up to the establishment of the new Northern Ireland government, she was an ardent supporter of the Peace Process and played a pivotal role in making sure that both communities were given access to the highest levels of government and business leaders. She helped to orchestrate opportunities that were critical to the success of the Peace Process. Perhaps the culmination of her work with regard to the Peace Process was when she worked with NASDAQ to have then First Minister Ian Paisley and Deputy First Minister Martin McGuinness ring the closing bell at NASDAQ signifying the end of an era of suspicion and violence and a reminder that the new government was now open for business.
In her current position as the head of the Northern Ireland Bureau in New York, Lorraine has been tireless in her efforts to maintain and strengthen the relationships she had already developed while everyone's focus was on the Peace Process. Drawing from her past experience as a Public Affairs Officer, she has reached out to both the Irish and British communities to make certain that their interest in Northern Ireland continued beyond the Peace Process. She has hosted both business leaders and political leaders when they arrive in New York in the hopes of finding support for the new Northern Ireland.
The role of the Northern Ireland Bureau is to:
• promote the already positive profile of Northern Ireland among US policy-makers and opinion-formers by ensuring that the policies of the Northern Ireland Administration and its associated institutions are known and understood;
• monitor policy developments in the US, ensuring that Northern Ireland Ministers and Departments have up-to-date information, and are aware of opportunities for co-operation; and
• pursue areas of collaboration and partnership identified by the above exchanges, and encourage their development in ways that maximize the mutual benefits.
Louise Corrigan
Louise Corrigan is an Attorney with New York County Defender Services, a public defender's office in Manhattan which represents over 16,000 indigent clients per year charged with criminal offenses in New York City. She is admitted to the Roll of Solicitors in Ireland, the New York State Bar and the United States District Court for the Southern and Eastern Districts of New York. Since moving there in August 2008, she has been representing indigent clients charged with criminal offences in New York City and is also currently the firm's Federal Immigration Counsel, representing those clients who are facing removal or deportation from the United States. A native of Co. Kildare, 30 year-old Corrigan graduated from University College Dublin in 2005 with an honors degree in Bachelor of Business and Legal studies. Prior to moving to New York, she worked with Michael Finucane Solicitor in Dublin.
Outside her legal career, she is currently acting Chairperson for the Irish Network-NYC (IN-NYC), a community of young professionals; Irish and Irish-American, that offers networking and contact opportunities. Facilitated through social, sporting and business events, IN-NYC, offers a support structure for new and old, may they be looking for social outings, friends, business networking opportunities or Irish connections in New York City and beyond. She is also the organization's representative for the Irish Network-USA (IN-USA), the national umbrella group which integrates 15 chapters in cities throughout the US including Boston, Chicago, New Orleans, Philadelphia, Phoenix, San Diego, Seattle, Washington DC and of course New York. She is also a member of Irish American Bar Association of New York and a Young Patron of Irish Arts Center, where she also performs with one of their resident dance companies. Irish dance has long been a huge part of her life and outside of her legal career and she has very successfully managed to make it her hobby in New York also. The biggest highlight of her New York dancing experience to date was having the opportunity to perform in Carnegie Hall in March of 2011, sharing the stage with New York Pops Orchestra, Ronan Tynan and Celtic Woman in a St. Patrick's Day celebration concert. She also appeared on NBC's Today Show in March 2009 and has travelled to many far-reaching parts of the greater New York area for a host of performances.
Since moving to New York, Louise has become an avid runner and very active member of the New York Flyers running club. In October 2012 she ran her first marathon in Mohawk Hudson Valley, which she completed with a time of 3:29:31 hours, qualifying for the Boston Marathon and earning herself an award from her club for Best Debut Marathon that year. She was nominated for the Irish Voice Most Influential Women 2011 Awards which pays special tribute to Irish and Irish-American women who have achieved success in a wide and varied spectrum of industries. Whether it's ownership of vital Irish American community businesses, a dedication to Irish culture, or success in some of the country's most renowned corporations the award celebrates most especially the deep pride they hold in their Irish roots as they follow their chosen career paths, a sense of pride that Louise feels very strongly and which motivates her in every aspect of her life in New York.
Macdara Vallely
Writer and director, Macdara Vallely, was born in Craigavon, County Armagh in
Northern Ireland. He graduated with a BA HONS in Theatre Studies and Irish
Language from the University of Ulster in 1994.
His second feature, which he wrote and directed, BABYGIRL, received its world premiere as an official selection of the Tribeca Film Festival 2012.
He wrote and directed his first feature film, PEACEFIRE, in 2008, winner of Best
First Feature at Galway Film Fleadh; the Special Jury Prize at the European
First Feature Festival at Angers and the Grand Jury Prize at the Annonay Film
Festival.
He made two short films, THE LOVE BITE (2004) winner of Best Irish Short at
the Galway Film Fleadh and FÍORGHAEL (2005), which placed second at the
Foyle Film Festival.
He has recently completed production on his latest projest JOSEPH CAMPBELL, an irish language documentary for TG4 about the leading irish poet, lyricist and revolutionary, who founded the first ever Irish studies department in the United States at Fordham University.
In addition to his films, Vallely has written, directed and performed in several
plays. He has also worked for several years as a community artist in New York
City and Northern Ireland.
Margaret Molloy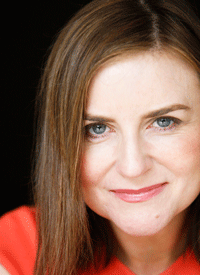 Margaret Molloy, Chief Marketing Officer, Velocidi
Based in New York, Margaret Molloy is a Partner at Chief Marketing Officer at Velocidi, the digital marketing agency. Prior to Velocidi she was SVP at Gerson Lehrman Group and held  leadership positions at Siebel Systems. In the 1990s Margaret served as VP of Marketing at Telecom Ireland US (eircom) where she was a prolific speaker and writer on Ireland as a location for investment. A native of Offaly, she came to the US with Enterprise Ireland.
She has been recognized by many organizations, including named as one of the "Most Influential US-Irish American Leaders" by Business & Finance magazine and "Top 100 Irish Americans in Business" by Irish America magazine and "40 under 40 by Irish Echo. Margaret is very prominent in Social Media and has been listed among the top CMOs on Twitter.
She earned her MBA from Harvard Business School and BA from the University of Ulster (Ireland) and La Universidad de Valladolid (Spain). She lives in Manhattan with her husband, economist, Jim O'Sullivan. They can be spotted every weekend exploring the city with their two young sons. Follow her on Twitter @MargaretMolloy.
Marty Glennon
Marty Glennon has a long and active family history in the labor movement. Prior to becoming an attorney, Marty Glennon worked as a union electrician with Local #3, I.B.E.W. for 10 years. He is still a dues paying and card holding member of the I.B.E.W.
As an attorney, Marty Glennon represents many various labor unions in the public and private sectors. He has successfully negotiated hundreds of contracts for his clients. He has ushered his clients through difficult negotiations and some through strikes.
In 1996, while attending law school, Marty Glennon helped establish the Joe Doherty Civil Rights Fellowship. The fellowship continues today and has provided annual scholarships for CUNY Law students who work summers on civil rights issues both here in the U.S. and abroad. He is also a founding member of the Brehon Law Society of Nassau County and has served as its President from 2002 – 2008 and is also a member of the Brehon Council. He also founded the Long Island Labor Advisory Council (LILAC), which he helped to develop with other labor leaders, construction contractors, and representatives of various Federal, State and Local governments. LILAC was created to bring together labor, management and government to address issues affecting working families on Long Island.
Marty has used his extensive labor law knowledge to influence labor law policies on a Federal, State and Local level. He has also successfully argued before the Second and Fourth Circuits. He has worked on the LI Regional Economic Development Council and LI Regional Planning Council. He currently serves as Vice-Chairman of the Nassau County Planning Commission.
Mary Ann Callahan
Mary Ann Callahan is a former Managing Director, Global Relations & Development, The Depository Trust & Clearing Corp
Ms. Callahan's background centers on strategies for enabling and supporting global cross-border financial business at the market infrastructure level. For the past three decades until beginning early retirement this month, Mary Ann Callahan served as head of Global Relations at DTCC, the U.S. securities settlement system, and in several of the company's international clearing and depository units, including as head of its London office. She recently completed three terms as president of the Americas' Central Securities Depositories Association (ACSDA) and served since 2011 on the founding board of the World Forum of CSDs.
In 2009, Global Custodian magazine tapped her as one of its Industry Legends, and also named her CSD Personality of the Year in the 1990s. She was twice named to Irish America's Wall Street 50 in 2009 and 2010. She has an MBA in Finance from Stern Graduate Business School at New York University and a BA from Manhattanville College.
She is now planning to pursue related global opportunities in the capital markets.
Michael Patrick MacDonald
Michael Patrick MacDonald is the New York Times Bestselling author of the memoir All Souls: A Family Story From Southie and Easter Rising: A Memoir of Roots & Rebellion. He has been awarded an American Book Award, a New England Literary Lights Award, and fellowships at the Rockefeller Foundation's Bellagio Study Center, MacDowell Colony, Djerassi, and Blue Mountain Center.
As an activist he has focused efforts on cross-cultural coalition building to reduce violence, founding Gun Buyback programs and local support groups which gave voice to survivors of violence and the drug trade from across Boston's once-divided neighborhoods.
He currently lives in Brooklyn New York, is Author in Residence in the Honors Department at Northeastern University, and Visiting Lecturer in the History Department at California State University, Northridge, where he teaches Writing & Social Justice Issues as well as a History of the North of Ireland. He is a contributor to the Boston Globe's Op Ed page and Esquire Online, and a frequent public speaker on issues of race, class, and violence.
Ned McGinley
Ned McGinley is Past National President Ancient Order of Hibernians in America (2002-2006), A.O.H. National Board Member (1994-Present), President of the Hibernian Charity Board (2005-Present), AOH National Board Political Education Committee Chairman (2006-2007) and again from (2008-2012)
Ned and his family participated in Project Children with three children from the Tully family on Ross St. on the Lower Falls from 1981 to 1985. In 1989 he first visited Belfast and Falls Road and has returned multiple times since, bringing his wife and family several times, through the 1990s and up to 2012 visiting in all parts of the city.
In 2007 Ned visited Belfast with a committee to study the potential for reconciliation among the disparate communities of Belfast. The committee visited with former Loyalist paramilitary leaders and Irish Republicans as well as community and political leaders.
Ned returned the next spring to continue research and has kept in touch with several unionist political leaders, loyalist leaders, and nationalist communities up until the present.
Norman Houston
Norman Houston is a career civil servant with almost 38 years' experience working in the Northern Ireland Civil Service. He has been Director of the Northern Ireland Bureau since November 2007. His job is to represent the interests of the Office of the First and deputy First Minister in the USA and Canada. This is his second posting to the USA, he previously served at the deputy director from 1998 to 2002. Over the years Norman has worked in economic development, personnel development and employment services.
He has a First Class Honors (Summa Cum Laude) degree in Modern History. He is the father of two grown up children. Norman grew up in Larne, Co. Antrim.
Oliver Jeffers
Oliver Jeffers makes art.
From figurative painting and installation to illustration and picture-book making, Jeffers work takes many forms. His distinctive oil paintings have been exhibited in multiple cities, including the National Portrait Gallery in London, the Brooklyn Museum, Brooklyn and Gestalten Space, Berlin.
Olivers picture books have been translated into over 30 languages, including Lost & Found, Stuck, The Hueys, The Incredible Book Eating Boy, The Great Paper Caper and most recently the NY Times bestseller This Moose Belongs to Me.
Working in collaboration with Studio AKA, Oliver's second book Lost and Found was developed into an animated short film which has received over sixty awards including a BAFTA for Best Animated Short Film.
Picture Book awards include the Smarties Award, Irish Book of the Year, The Blue Peter Book of the Year, The New York Times Best Illustrated Books as well as shortlists for the British Book of the Year, The Roald Dahl Prize and the Kate Greenaway Medal.
Oliver won a NY Emmy in 2010 for his collaborative work with the artist and director Mac Premo.
Born in Australia, brought up in Belfast, Northern Ireland, Oliver now lives and works in Brooklyn New York. He is currently preparing for his solo exhibition 'Nothing to See Here' at Lazarides Gallery, London this coming September.
www.oliverjeffers.com
Patrick F. N. Anderson
Patrick F. N. Anderson Chief Executive Officer Dalradian Resources Inc. Mr. Anderson is an exploration geologist, entrepreneur and business executive with over 18 years of experience working in the resource sector.
After graduating with a geology degree from the University of Toronto, he moved to Venezuela to work as the resident project geologist on a successful kimberlite exploration program. Since then, he has been a consulting geologist on gold, base metals and diamond projects for junior explorers, major producers and mineral industry consulting firms in South America, North America and Europe.
Mr. Anderson was a director, President, Chief Executive Officer and co-founder of Aurelian Resources Inc., which discovered a 13.7 million ounce gold deposit in 2006 and was acquired by Kinross Gold in 2008.
Mr. Anderson sits on the board of Continental Gold Limited. He was named Mining Man of the Year by The Northern Miner in 2009 and received the PDAC's Thayer Lindsley award for an international mineral discovery in 2008.
Patrick J. Tully
Patrick J. Tully
Patrick Tully is the New York Director and National Director of The Young Leaders of The American Ireland Fund.
Mr. Tully is also a professional Auctioneer and since 2001 has worked with hundred's of charities, helping them raise millions of dollars around the world with his auction service. Mr. Tully has also been the auctioneer for many celebrity foundation events, including: Russell Simmons Art For Life and the Diamond Empowerment Fund, Petra Nemcova's Happy Hearts Fund and The Jorge Posada Foundation, just to name a few.
Prior to joining The American Ireland Fund on a professional level, Mr. Tully was the President o Pat Tully Inc. a marketing and public relations firm specializing in building personal brands for professional athletes and bold face personalities.
Mr. Tully was the 2008 American Ireland Fund Young Leader of the Year and was named to the Irish Echo's "40 under 40" list in 2010. His Irish roots hail from Counties Cavan, Meath and Tipperary.
Mr. Tully is an active board member of Jeremy's Heroes www.jeremysheroes.org, and the Kate Shea Foundation www.katesheafoundation.org and he loves the Irish Arts Center.
Mr. Tully holds a B.A. in Communications and Public Relations from Marist College.
Paul Maskey
Paul John Maskey is an Irish republican politician. He served as a Sinn Féin member (MLA) of the Assembly for Belfast West from 2007 to 2012, and was elected in June 2011 as Member of Parliament (MP) taking over 70% of the vote for the Westminster constituency of Belfast West. In line with Sinn Féin's policy of abstentionism he has not taken his seat.
Married with two children, Paul represented Sinn Fein in the Upper Falls DEA from 2001 until September 2009 in Belfast City Council and was elected to the Assembly for the west Belfast constituency in 2007-2012.
Paul was the Chairperson of the Assembly's Public Accounts Committee and a member of the Standards and Privileges, Assembly Audit and Assembly Business Committees.
He has worked tirelessly over the years to ensure that west Belfast is resourced accordingly and has been central to the development of West Belfast as a tourism destination.
He is Chairperson of Failte Feirste Thiar and is represented on a number of resident associations within the area.
Pauline Turley
Born in Co. Down, Pauline Turley graduated with a B.A. Honors degree in Drama and Theater Studies from Trinity College, Dublin. Pauline was appointed Executive Director of the Irish Arts Center in New York in 1998, a position she held until April 2006 when she was appointed Vice Chair of the Board of Directors. Founded in 1972, the Irish Arts Center is a multi-disciplinary organization dedicated to promoting Irish arts and culture, which is currently working with the City of New York, the Irish Government, private donors and the American Ireland Fund on the development of a new Irish Arts Center in New York, to highlight Ireland's rich cultural history while promoting a dynamic image of Ireland and Irish America for the 21st Century.
In 2008 Pauline was selected as one of the Irish American Magazine's Top 100 Irish Americans, the Irish Echo Newspaper's Top 40 Under 40, and one of the Top 50 Most Influential Women in Irish America by the Irish Voice Newspaper. In 2009 Pauline received the Michael Smurfit Leadership Award, presented by the Irish Chamber of Commerce USA (ICCUSA), and was one of the recipients of the Ellis Island Medal of Honor for her work in preserving and promoting Irish culture in the U.S.
Peter Ryan
Peter Ryan Deputy Consul General for Economic & Public Affairs has been based in New York since 2011.
Born in Dublin, Peter studied at Synge Street, Belvedere College & UCD. He worked in financial services for a number of years before joining the Department of Foreign Affairs in 1994.
His first assignment was to work on cross-community and cross-border projects with the International Fund for Ireland. He then served in Tokyo for three years and Seoul for two years, before returning home to work on Ireland's business relations with the Asian Region.
In 2004 he was assigned to the Department of Communications as a specialist in technology matters & served for two years in Singapore, with responsibility for the Asia-Pacific Region.
In 2006 he was appointed as Director of the Asia-Europe Foundation in Singapore, a governmental multilateral organisation with forty five member countries in both regions.
In 2009, on completion of this assignment, he returned to Ireland & until his posting to New York worked in Political Division, initially as head of the political secretariat & then as Deputy Director on the Asia-Pacific Desk.
Peter is married to Teresa, also from Dublin, and they have three daughters, Seána, Ciara & Aoife.
Robert W. Walsh
A great friend of Belfast, Robert W. Walsh was appointed Commissioner of the New York City Department of Small Business Services (SBS) by Mayor Bloomberg in January 2002. During his tenure, he has reshaped the Agency to directly focus on and respond to the needs of the City's 200,000 small businesses—the first time that a City agency has been completely dedicated to this goal.
In doing so, SBS has invigorated the City's 67 Business Improvement Districts—the largest network of BIDs in the country—which deliver more than $100 million dollars in supplemental services for the direct benefit of more than 64,000 businesses. He has also enhanced the delivery of technical assistance and incentives to NYC's small businesses through NYC Business Solutions; energized the City's promotion and support of minority- and women-owned businesses; and reconfigured the City's workforce development initiatives, which the Mayor merged with SBS in July 2003.
Prior to his appointment, Walsh spent five years in North Carolina as President of Charlotte Center City Partners, an organization dedicated to improving and growing Charlotte's central business district. From 1989 to April 1997, he led the Union Square Partnership, where he played a key role in the neighborhood's revitalization. During the 1980's, he worked in the administration of Mayor Edward I. Koch. He began his career in public service as a New York City Urban Fellow, a program he later directed. Commissioner Walsh holds a bachelor's degree and a master's degree from Fordham University.
ROY ADAIR
ROY ADAIR, CHIEF EXECUTIVE
BELFAST HARBOUR COMMISSIONERS
Roy Adair was appointed Chief Executive of Belfast Harbour Commissioners in 2005.
Educated at the Boys' Model School in Belfast, he won a scholarship to Queens University Belfast attaining a 1st Class Honours Degree in Mechanical Engineering.
He also was awarded a U.S. government scholarship to the University of Massachusetts.
His career began in a number of engineering and manufacturing roles with Rothmans International.
Roy's first opportunity to run a business came at 28 years of age when he was appointed Director and General Manager of Flexibox International, a multinational firm serving the oil industry which led to him completing a Masters Degree in Business Administration at the University of Ulster.
He became the first Chief Executive of the Northern Ireland Quality Centre (a non profit focused on business excellence) in 1990 and joined the Nasdaq quoted electronics group DDL Inc in 1994 to run one of their key companies (Irlandus Circuits) and was later promoted to head all European operations.
Roy bought Irlandus Circuits Limited from the Group in 1999.
Roy has been involved as a non-executive in a range of organisations which currently include the Prince's Trust, Business in the Community (as Northern Ireland Chair), the UK Major Ports Group and Invest Northern Ireland. He is President Emeritus of the General Stevedoring Council, chairs the Diaspora initiative, NI Connections, and is a National Judge for the UK National Training Awards.
Roy has also served as Prince Charles' Ambassador for Social Responsibility.
Sammy Douglas
Sammy Douglas is a well-known figure in East Belfast, having extensive experience working with a wide range of community, voluntary and church groups in the constituency. Previously working as a Social and Economic Regeneration Advisor to East Belfast Partnership, Sammy has helped to establish job creation schemes and attracted funding of over £90 million during his career.
Sammy is a founding member of East Belfast Interface Group where he worked to address community conflict and encourage dialogue between Unionists and Nationalists living in those interface areas.
Currently, Sammy is heavily involved in a number of important community projects within East Belfast. He is Project Champion for the Connswater Community Greenway, a £32 million project to create a 9km linear park through East Belfast. He is also Project Champion for the regeneration of Templemore Avenue School.
Sammy holds a number of Voluntary Directorships including on the East Belfast Community Development Agency, Ullans (Ulster Scotts) Academy and the Hanwood Trust in Tullycarnet. He is also a co-ordinator of the Enler Complex in Ballybeen
A former member of Harland and Wolf Task Force and Langanside Corporation, Sammy was awarded an MBE by Her Majesty the Queen for services to the community in Belfast. He also received a Commendation for Outstanding Leadership from the United States Department of Commerce.
Sammy was elected as a Member of the Assembly for East Belfast in 2011 and currently sits on the Employment and Learning and Public Accounts Committees.
Steve Lenox
Steve Lenox serves as Senior Vice President for William Fry, one of Ireland's most recognized and respected law firms with specific focus on raising the firm's profile among American businesses in the US.
Steve Lenox is also  the Founder and President of Lenox Consulting, a U.S. and Ireland based strategic communications consulting firm. Lenox Consulting represents a variety of clients, providing business development, public affairs, media relations and political consulting services.
Prior to launching Lenox Consulting, Steve served as state director to New Jersey's senior U.S. Senator, Frank R. Lautenberg, where he was responsible for managing all aspects of the Senator's offices in New Jersey. Steve's background also includes three and a half years as legislative affairs coordinator for the New Jersey State AFL-CIO, as well as in leadership positions with the Office of New Jersey State Senator Linda Greenstein and the Administration of New Brunswick Mayor James Cahill.
In 2011 Steve co-founded Irish Network NJ, and later that year was elected as Co-President of Irish Network USA, the umbrella organization for chapters across the United States, providing a vehicle and resource for Irish, Irish-Americans, and friends of Ireland to join together with common interests.  Irish Network USA has a broad tent under which business, arts, culture, music, politics, foreign policy, and language can be highlighted to bolster relationships
A dual citizen, Steve has built an extensive network of government and business leaders in Ireland, where his wife Aoife owns and manages a successful small business, and they are currently raising their three children Conor, Cian and Dylan.
Terry George

Terry George is a native of Belfast. He first came to New York in 1981. His first dramatic work, the prison escape play, "The Tunnel", was staged at the Irish Arts Center in New York in 1986. "The Tunnel" was the first of numerous collaborations with writer / director Jim Sheridan.
In 1992 George and Sheridan wrote "In the Name of the Father". The film was nominated for seven Academy Awards including Best Screenplay. In 1996 George was named Young European Film Director of the Year for his directorial debut "Some Mother's Son". Since then he has written and directed numerous television shows and feature films including, "A Bright Shining Lie", "The District", "Hart's War", and "Reservation Road". In 2004 he wrote, directed and produced "Hotel Rwanda". The film was nominated for four Academy Awards including Best Screenplay. He most recently directed Dustin Hoffman and Nick Nolte in the HBO drama series "Luck". He is currently working on a feature film based on the life of the UN Diplomat Sergio Vieira de Mello.
In 2012 he wrote, directed and produced the academy award winning short film 'The Shore' alongside his daughter Oorlagh.
Thomas A. Dunne
A native of Brooklyn, N.Y., Thomas A. Dunne graduated from St. Francis College in 1968 and went on to receive his Juris Doctorate degree from Brooklyn Law School. He began his career as head of the Middle School at Saint Ann's School in Brooklyn Heights, a progressive school for intellectually gifted students.
Following his stint as an educational administrator and teacher, he moved into the area of public service. He served successively as an administrative law judge for the New York State Department of Social Services, and was appointed by Governor Mario Cuomo to serve as the Vice Chairman of the Workers' Compensation Board.
Tom has over 20 years' experience in both the public and private sector on legislative and policy issues, and has served as vice president of public policy and external affairs for Verizon-New York, where he was responsible for the corporation's interaction with various government agencies and officials. While at the company, he oversaw a multi-billion dollar franchise agreement between Verizon and New York City that brought the company's fiber-optic cable network to all five boroughs. The process involved negotiating with, and gaining multiple approvals from, numerous city and state agencies and officials.
In 2008, he joined Fordham University and is as Vice President for Administration.
Dunne has been active in civic affairs throughout his entire career, including service to the Citizens' Crime Commission; New York City Police Foundation; New York City Parks Foundation; Mayor's Mid-Town Task Force; Association of the Bar of the City of New York;
Government Affairs Committee of the New York State Business Council; the Harlem School of Music – Opus 118; and a founder of the Miniature Theatre in Chester, MA.
Todd Kelman
Todd Kelman is General manager of the Belfast Giants ice hockey team. Todd hails from Calgary, Canada but has lived in Belfast for the past 13 years. He was an original member of the Belfast Giants Ice Hockey Club when they started back in 2000 and won 3 Championships as a player with the Giants over 7 years. In his 6 years as General Manager, the Giants have won 4 Titles. Kelman attended Bowling Green University in Ohio on a hockey scholarship before turning professional. He graduated with a degree in broadcasting and more recently completed his Masters in Business (MBA) from Queens University in Belfast. He was an NHL Draft Pick of the St Louis Blues back in 1993 but played all of his professional ice hockey in Europe.